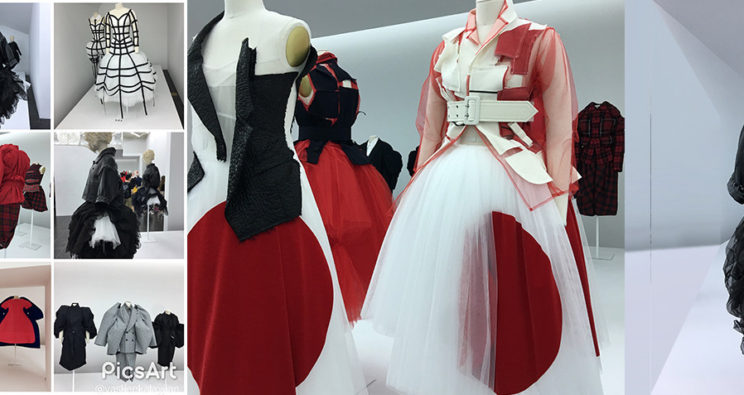 Challenging Conventional Notions of Beauty
Costume Institute's spring 2017 Met exhibition examines the work of fashion designer Rei Kawakubo, known for her avant-garde designs and ability to challenge conventional notions of beauty, good taste, and fissionability.
Explore the work of Rei Kawakubo in relation to Avant Garde Design, notion of beauty and fashion
This is a magnificent and challenging show. The thematic show features approximately 140 examples of Kawakubo's womenswear for Comme des Garçons the iconic Japanese brand which is a contemporary blend of cool with its color-rich super chic style. The work presented dates from the early 1980s to her most recent collection, many with heads and wigs created and styled by Julien d'Ys.
The exhibition is beautifully designed, as it breaks down barriers between art and fashion, and the notion, is clothing art? Furthermore, Rei Kawakubo's fascination with the space between boundaries comes alive in this exhibition which uses space between and hidden spaces so magnificently.
The garments are astonishing and the installation design and the catalog forms a unique experience that anyone interested in fashion and our current culture we live in must appreciate.
The galleries illustrate the designer's revolutionary experiments in "in-betweenness"—the space between boundaries. Objects are organized into nine aesthetic expressions of interstitiality in Kawakubo's work: Absence/Presence, Design/Not Design, Fashion/Anti-Fashion, Model/Multiple, Then/Now, High/Low, Self/Other, Object/Subject, and Clothes/Not Clothes. Kawakubo breaks down the imaginary walls between these dualisms, exposing their artificiality and arbitrariness.
"I like to work with space and emptiness."
Since founding Comme des Garçons in 1969, the Tokyo-based designer Rei Kawakubo has consistently defined and redefined the aesthetics of our time. Season after season, collection after collection, she upends conventional notions of beauty and disrupts accepted characteristics of the fashionable body. Her fashions not only stand apart from the genealogy of clothing but also resist definition and confound interpretation. They can be read as Zen koans or riddles devised to baffle, bemuse, and bewilder. At the heart of her work are the koan mu (emptiness) and the related notion of ma (space), which coexist in the concept of the "in-between." This reveals itself as an aesthetic sensibility that establishes an unsettling zone of visual ambiguity and elusiveness.
"Rei Kawakubo/Comme des Garçons: Art of the In-Between" examines nine expressions of "in-betweenness" in Kawakubo's collections: Absence/Presence; Design/Not Design; Fashion/Antifashion; Model/Multiple; High/Low; Then/Now; Self/Other; Object/Subject; and Clothes/Not Clothes. It reveals how her designs occupy the spaces between these dualities — which have come to be seen as natural rather than social or cultural —and how they resolve and dissolve binary logic. Defying easy classification themselves, her clothes expose the artificiality, arbitrariness, and "emptiness" of conventional dichotomies. Kawakubo's art of the "in-between" generates meaningful mediations and connections as well as revolutionary innovations and transformations, offering endless possibilities for creation and re-creation.
Gallery views of The Costume Institute's spring 2017 exhibition, Rei Kawakubo/Comme des Garçons: Art of the In-Between, narrated by exhibition curator Andrew Bolton.
"My clothes and the spaces they inhabit are inseparable — they are one and the same. They convey the same vision, the same message, and the same sense of values."
The concept of "in-betweenness" is reflected in the design of this exhibition — a collaboration between Kawakubo and The Met. Mu (emptiness) is suggested through the architectural leitmotif of the circle, which in Zen Buddhism symbolizes the void, and ma (space) is evoked through the inter-play of structural forms. Ma expresses void as well as volume, a thing with and without shape — not defined by concrete boundaries. Amplified by the stark whiteness of the gallery surfaces, the visual effect is one of both absence and presence.
"The right half of my brain likes tradition and history, the left wants to break the rules."
Kawakubo's experiments with "in-betweenness" relate to the unfolding of modernism as an ongoing project. This idea is explored in Then/Now, which focuses on the designer's relationship to time through the collections Modern Sweetness, Sweeter Than Sweet, Body Meets Dress — Dress Meets Body, Inside Decoration, and White Drama. Over the course of her career, Kawakubo has plumbed fashion history for inspiration. She has an affinity for the overblown silhouettes of the nineteenth century, achieved through bustles and crinolines. In her hands, however, the silhouettes are so radically and profoundly reconfigured as to eradicate history.
Rei Kawakubo Guide.pptx - Microsoft PowerPoint Online
Vasken Kalayjian @gkbrand @tribeglobal -- Award-winning GK Brand. Tribal Global branding expert, speaker and author of BRAND REAL: The Startup Entrepreneur's Guide To Effective Branding And Building Value-Based Organizations. For more about Vaksen and Brand Real, go to Brand-Real.com
Brand Real: The Startup Entrepreneurs' Guide to Effective Branding and Building Value-Based Organizations. Available on AMAZON and Barnes & Noble.
#startup #entrepreneurs #guide #branding #TribeGlobal #gkbrand
© 20017 All rights reserved. The Metropolitan Museum of Art. The exhibition is made possible in part by Condé Nast.