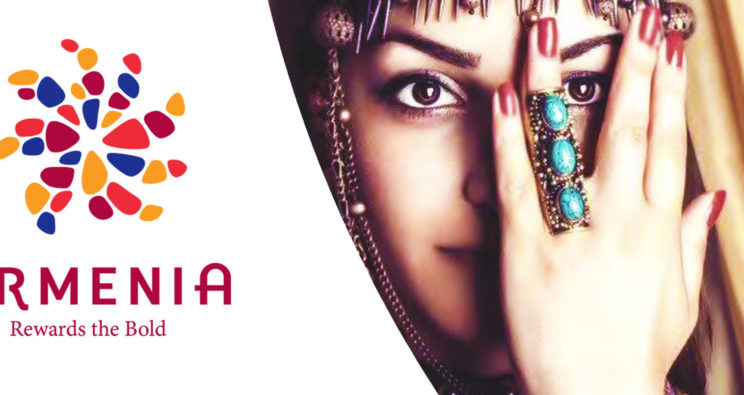 Armenia Rewards the Bold!
Brand Armenia. The Challenge
The National Competitiveness Foundation of Armenia (NCFA is now DFA) decided that it was time to develop a cohesive brand strategy for Armenia. Being one of the most promising economies in the region, the NCFA identified tourism and foreign investment as the sectors with the most growth potential.
Armenia had done well for itself in comparison with its neighbors, boasting an educated, skilled, and unified population, as well as a rich history and culture. In spite of these assets, however, Armenia was underperforming in its ability to attract non-ethnic Armenian tourists, and had plenty of room to grow with regard to attracting foreign investment into its otherwise capable economy.
In February of 2014, GK Brand Tribe Global Cundari signed the first-ever national brand development contract for the Republic of Armenia to take on the unprecedented effort of marketing Armenia to tourists and foreign investors with a clearly defined and powerful brand identity. This initiative was to launch a strong Armenian presence in the global marketplace, and introduce the world to the well-spring of promise awaiting them in Armenia.
What We Did
Our challenge clearly set before us, we identified our target audience as non-ethnic Armenian travelers and investors, but also decided that a strong branding strategy must ring true and authentic to Armenian locals and diaspora.
Research
Our efforts began with an unprecedented amount of research to identify the state of the Armenian brand around the world, as well as its greatest assets and challenges for attracting a new flow of foreign tourists and investors.
We conducted an in-depth study spanning 35 countries and over 1000 personal interviews, an online survey of worldwide demographics with over 4000 responses, and we reviewed over 200 articles and reports written about Armenia locally as well as abroad. We also audited a long list of country brands around the world to assess the competitive landscape, as well as strategies used by leading global brands like the UK and Brazil, among many others.
We also researched all of Armenia's potential assets, reviewing over 200 armenian tourist sites, as well as other government and cultural resources.
Findings
Our research concluded that the aspects of Armenian culture with the most positive resonance worldwide were its unique culture, religious heritage, ancient history, as well as the hospitality, intellect, creativity, and resilience of its people. The greatest weak spots impairing Armenia's international image were perceptions that Armenia as corrupt, not modern, or unknown. These were key indicators of momentum to capitalize on in our brand strategy, as well as obstacles our strategy would need to counteract. Our goals and tools were coming into view.
Lastly, among those with the greatest stakes in Armenia's brand (those linked to or part of Armenian government, academia, and business), Armenia's key positive attributes were its resilience, pride, values, intellect, creativity, culture, nature, and history. The one recurring theme across the board was Armenia's religious values and heritage.
Strategy
Building on top of the foundations of our findings, we crafted a strategy to guide our creation of Brand Armenia. Due to the highly competitive landscape of country branding, we decided that distinguishing Armenia was more crucial than evoking similarities with surrounding countries in the region. It was therefore important to define Armenia's brand around a unique and specific personality, with the understanding that no brand can be all things to all people.
In seeking to distinguish the essence of Armenia's brand, we concluded that the brand direction with the greatest potential was that which emphasized emotional and/or "high order" attributes. This is to say, intangible attributes of the society and its people, rather than conventional assets like location, landmarks, climate and other material features.
More specifically, we identified the high order attributes of: spirituality, intellectual reward, learning, and discovery.
Creating the Brand
Our strategy in place, we set about creating the brand. We started with a brand story, then condensed it into an elevator pitch
"Armenia is eternal. Culture thrives everywhere. The people are united by faith and a passion for prosperity. No matter where on earth or at what point in time, the people thrive knowing they are part of an irrepressible, passionate nation."
In these 40 words, we were able to isolate the unique and intangible high order qualities of Armenia, qualities that could connect a multicultural audience to a powerful Armenian essence; a strong and authentic introduction.
We then created taglines to encapsulate Armenia's cultural and economic dynamism for tourists and investors, reflecting its growth potential, optimistic spirit and forward-looking ideas:
Armenia. Rewards the Bold
 Armenia Where History is Made
Armenia: The Story is Just Beginning
Armenia. Home Eternal
These taglines draw from Armenia's ancient heritage and historical appeal, but frame them in the modern context of an eternal continuum; a story still in the making, and just getting started.
The Logo
We then took all of these core principles and guiding ideas, and found a visual language for them in the creation of a logo. The logo was to be grounded in these same concepts, but with a primary emphases on evoking strong feelings. After testing several iconically Armenian symbols (Mount Ararat, the Armenian cross, the Armenian symbol for eternity, the pomegranate, and the Armenian flag) we decided to draw from multiple aspects of this iconic imagery by creating a new abstract symbol.
We came up with the logo that we call the "eternal sun", a composite of different iconic elements with a cohesive, powerful, and evocative meaning. The eternal sun is a blooming flower shaped like the Armenian symbol for eternity, made of radiating stones (symbolizing Armenia's ancient landscape), with the colors of the Armenian flag as well as the additional color of dark red (turning some stones into pomegranate seeds).
The Eternal Sun
The blooming Flower symbolizes the eminence of Armenian creativity throughout the world, the eternity symbol represents Armenia's spiritual heritage, the pomegranate seeds represent abundance, and the radiating pattern symbolizes the diaspora emanating out from Armenia's center.
Results
Today, the Develop Armenia Fund is in the process of implementing their new and exciting brand direction. Armed with a verbal and visual language that captures an ancient heritage in a vibrant and forward-looking face, the DFA has an amazing marketing resource in its hands to use across its tourism sector, and in its national strategy for attracting foreign investment.
Contributed by: Cundari. Tribe Global Canada.  |  Discover all of our Travelations here: https://www.tribeglobal.net/Strengths/Travel
Follow us on social media via the links below and discover all of our Travelations here: https://www.tribeglobal.net/Strengths/Travel
Tribe Global is a network of 32 independent agencies working together with an overwhelming passion for solving client challenges creatively, with a commercial imperative. Travelations are for travel marketers seeking global perspective, actionable insights and business advantage. For more Travelations and examples of our deep Tribal travel/tourism experience, find us at tribeglobal.net.
#Travelations #VelevetRevolution #ArmeniaRewardstheBold #CountryBrand #Armenia