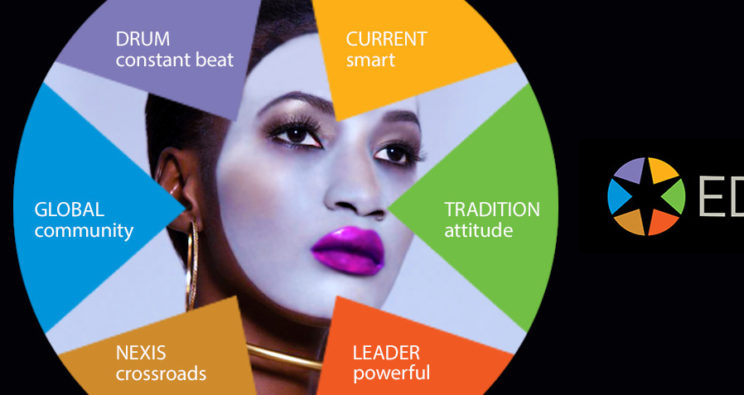 EDAN TV Network. Get Inspired!
Contemporary. Urban. Cosmopolitan
Unhappy with how Africa and global black culture was portrayed in the media, Senegal-born marketing professional Eveline Diatta-Accrombessi set out to launch a global and bilingual (French and English) media network with a different approach. She wanted to use traditional and new media to create a portrayal of international black culture that would elevate the human spirit, rather than reinforce overworn misperceptions.
Eveline approached GK Brand with an ambitious challenge, to brand the first bilingual and global black TV network. The distinguishing goals that this task encompassed were as critical as they were subtle. This was to be an uplifting and on-trend international platform for African and black identity aimed not just at black audiences, but at a worldwide audience. It was critical that this brand not only avoid the traps of previous mischaracterizations, but that its identity be current, exciting, and authentic to the multi-faceted culture of international black experiences. At the same time, it needed to also be inclusive to all communities and ethnicities. This network was to pioneer a strong and positive reference for the entire world of the common black experience.
What We Did
Working with Eveline and her team, we developed a full-brand strategy for the launch of EDAN TV to entertain and inspire audiences.
To begin the process, we engaged extensively with the founder to define her vision, and conducted research of global media markets. Of EDAN's closest competitors focused on African/Pan-African experience, none was truly global facing like industry leaders, CNN and BBC. By avoiding the pitfalls of local-facing and provincial iconography, we determined that EDAN could be the first network to focus exclusively on elements of black culture universally recognizable on the world stage, and always with a positive thrust. Thus, our strategy was to make EDAN accessible and familiar to all markets, while staking out a position as the first entirely global-facing network of a truly worldwide black experience.
Making Eveline and her team a part of the process every step of the way, we used our research to test and create a smart, fun, and inspiring brand rooted in rich tradition, but forward-facing and driven by modern trends. We targeted educated and well-traveled people all over the world, ages 35 - 55; an inclusive global market ideally suited to the brand with tremendous marketing potential.
The name EDAN was selected after an in-depth process for being euphonic, evocative, and memorable across all languages, ideal for an industry leader seeking to maximize marketing possibilities. We matched that concept with a visual identity and logo evocative of Pan African traditions, but with a sexy, bright, and modern visual aesthetic. All promotional materials included international success stories in entertainment, fashion, and world affairs that are shaping the future now. We made a point to be inclusive in dealing with ethnicity, putting black identity and star-power front and center, but not above all others, also valuing iconography of other ethnicities and pairing the two together naturally.
With our brand strategy guidelines, we also created a full package of promotional material and launched the brand in French with the help of our Tribe Global office Concept Factory in Luxenburg, complete with website, social media, press events, a grand kick-off event in Paris well-attended by top celebrities and leading bands, and post-launch PR in global media. Not only did these combine to create a strong and unique brand identity situated to excel in the global media market, but they also charted a clear path of content programming going forward.
Results
Today, EDAN has sprung onto the world stage with the style and substance befitting a global network out to lead international media trends. EDAN's French-language network offers premium entertainment spanning talk-shows, movies, music, and documentaries, keeping to its promise of fun and smart content. EDAN's English-language network will soon make a splash of its own in the English-speaking market, with fresh and smart programming across traditional and new media.
EDAN unites the very best of black culture on a single platform that is not only exciting and inspiring, but also a beacon connecting the world to an uplifting and self-confident global black identity. It is a strong and innovative new voice putting forth a positive and sophisticated image of black culture worldwide for a new generation to see.
Vasken Kalayjian @gkbrand @tribeglobal -- Award-winning GK Brand. Tribal Global branding expert, speaker and author of BRAND REAL: The Startup Entrepreneur's Guide To Effective Branding And Building Value-Based Organizations. For more about Vaksen and Brand Real, go to Brand-Real.com
Brand Real: The Startup Entrepreneurs' Guide to Effective Branding and Building Value-Based Organizations. Available on AMAZON and Barnes & Noble.
#startup #entrepreneurs #guide #branding #TribeGlobal #gkbrand #EDANTV #BroadcastDesign #TVBrand #Branding #Naming #CompanyNaming #CompanyBranding #AfricaTV #EvelineDiattaAccrombessi