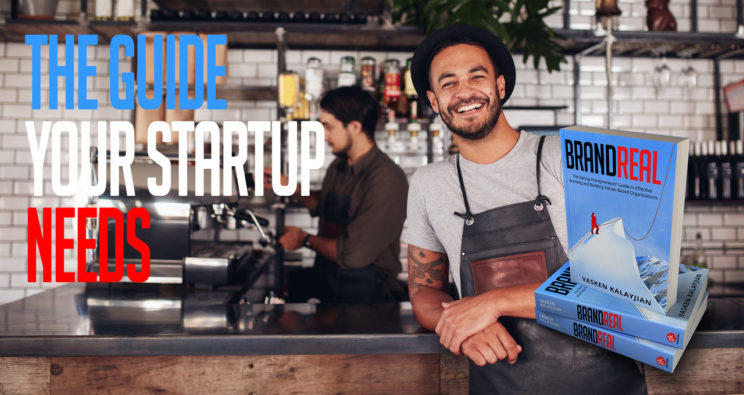 Everything begins in the mind. Everything is mind.
Contributed by Caroline Gikonyo
"Above all, figure out what your story is and tell it consistently, as confusion kills sales and companies."
This is a memorable quote by Peter Drucker a renowned management guru that captures aptly the essence of this branding handbook. Just like your personal name is an important identification symbol helping to differentiate you from the masses, a brand-name is a make or break factor in the success of a startup. An authentic unique brand name gives the startup a competitive edge by helping it stand out in a crowded marketplace.
Brand Real: The Startup Entrepreneurs' Guide To Effective Branding And Building Values-Based Organizations is a, twenty-seven chapter, four hundred and thirty four page nonfictional book. It is designed as a handbook to guide startup entrepreneurs by offering them tools, tactics and strategies on building an authentic brand. This book begins by a description of what branding entails by outlining the twelve essential qualities of a brand and the value of branding. It describes the criteria that successful branding must meet and what it entails to build a successful and effective brand identity. The book describes how to create or select a great and unique brand name and how to tell a compelling powerful story that communicates your brand promise. In this book the reader learns the importance of market research to branding and how to conduct out a S.W.O.T analysis for your business. The impact of languages and cultures on brand names and branding is addressed which is very important when operating in a global economy. The book includes many GK Brand illustrations to enable the reader grasp the content better. As they say, "A picture is worth a thousand words."
"Everything begins in the mind. Everything is mind."
–Vasken Kalayjian
Brand Real is authored by Vasken Kalayjian who is an award winning global branding expert as well as the Chief Executive Officer and brand architect at GK brand, Tribe Global. With thirty years' experience working for fortune 500 companies, start-ups, governments and non-for-profit organizations he is best placed to author this book.
I loved that Vasken tapped into the knowledge and expertise of various thought leaders whom he has worked with to give insights in areas such as crisis management. He has also gone beyond his call of duty to include content and tools that are not part of branding but necessary in launching and running a successful startup. These bonus sections appear in the appendices and include how to write a business and marketing plan as well as legal issues surrounding intellectual property rights. This is great because I got to not only learn about branding but also equipped myself with necessary knowledge that will help me in effectively running my startup.
Voices of Leading Experts
I loved that this book includes the voices of leading experts in various fields so I not only learn from the author's knowledge and expertise but also glean from the greatest minds in the industry whom I may never have a chance to meet face to fact, at least not at a cost I can afford. I also loved the summary at the end of every chapter in the book where he recaps the major points covered. In the summary there are also exercises which enable the reader put into practice the knowledge learnt which is a fantastic way of engraving the content in the reader's memory. The book has many memorable quotes such as "Products are made in the factory. Brands are built in the mind", by Walter Landor. Vasken's passion to mentor startup entrepreneurs is vivid and exemplary.
I would recommend this book those who are thinking of launching a startup or entrepreneurs who are seek to give their startups a competitive advantage. I would also recommend this book to lecturers or professors teaching entrepreneurship or business related courses to students in the universities.
In the psychozoic age or the age of the mind ignorance is not bliss. I agree with the author's quote that "Everything begins in the mind. Everything is mind."
This book easily earns 4 out of 4 stars because Vasken Kalayjian has spared no expense or effort towards equipping me with the knowledge I need to effective launch and run my startup in this career. He has mentored and equipped me on branding and on becoming a great entrepreneur. In the psychozoic age or the age of the mind ignorance is not bliss. I agree with the author's quote that "Everything begins in the mind. Everything is mind."
–By Caroline Gikonyo
You can order your copy of Brand Real today from Amazon or Barnes & Noble.
Vasken Kalayjian @gkbrand @tribeglobal -- Award-winning branding expert, speaker and author of BRAND REAL: The Startup Entrepreneur's Guide To Effective Branding And Building Value-Based Organizations. For more about Vaksen Kalayjian and Brand Real, go to Brand-Real.com
#marketing #branding #entrepreneurship #business #startups #tribeglobal #gkbrand