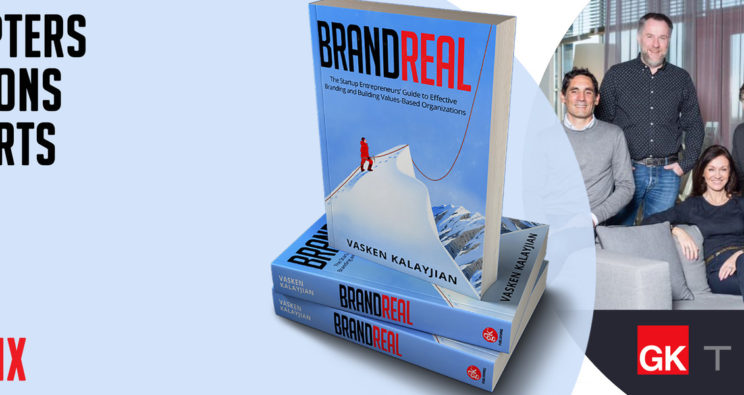 Experts Unite to Launch Ultimate Handbook for Startup Success
Brand Real is a complete, step-by-step handbook for success, from startup to scale, and is now available for all entrepreneurs, startups and CEOs through Amazon and Barnes & Noble.
In Brand Real, award-winning global branding expert Vasken Kalayjian brings together 27 of the leading names in branding, marketing, social media marketing, PR, employer branding, crisis management and other key disciplines, to provide the ultimate tool for building and branding successful companies that are rooted in their values.
It is a fact that 90% of startups fail. 90% of great ideas never see the light of day, no matter how much money gets thrown at them. Brand Realoffers some fundamental principles of branding, as well as practical tools, techniques and strategies that are grounded in specialist knowledge and decades of experience, so that we can see more innovations develop into successful businesses that will shape the future of the world we live in.
"A wide-ranging, inclusive, and invaluable look at creating, guarding, and promulgating a brand in today's marketplace."
— Kirkus Review, March 2018
"Brand Realmakes you think about what you are doing, and why, and how to make that appealing to your customers. Challenging, brilliantly explained, and enormously helpful!" 
– W. Brian Arthur, Silicon Valley economist.
"The brands that will thrive in the coming years are the ones that have a purpose beyond profit."
"Brand Real is an important tool for any startup entrepreneur who wants to build a startup with a purpose."
— Richard Branson
Brand Real is available now, in print and eBook formats, from Amazon and Barnes & Noble.
Vasken Kalayjian @gkbrand @tribeglobal -- Award-winning branding expert, speaker and author of BRAND REAL: The Startup Entrepreneur's Guide To Effective Branding And Building Value-Based Organizations. For more about Vaksen and Brand Real, go to Brand-Real.com
About Brand Real:
Brand Real: The Startup Entrepreneurs' Guide to Effective Branding and Building Values-Based Organizations