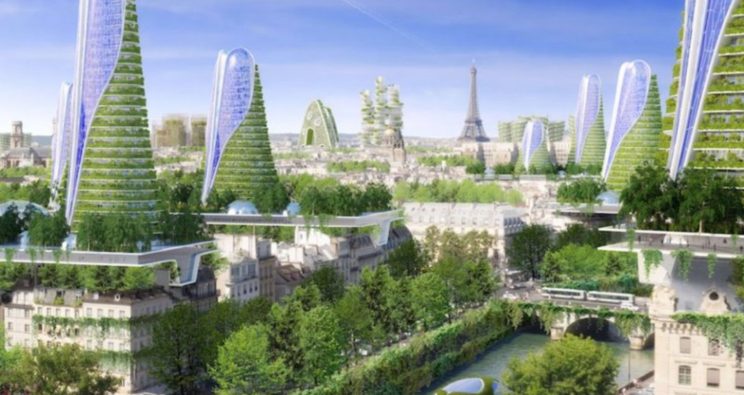 The Architecture of the future
Looking Ahead, Together
From designers and architects to academic researchers and social action groups, forward-looking entrepreneurs and innovators from every field are increasingly asking questions about how our lives and lifestyles are changing, and how are homes, communities and cities must adapt to meet the needs and challenges of the next couple of decades. There is an urgent opportunity to work together in recognizing the changes and the trends that are already underway in terms of how we live alongside each other, identifying the key issues that need solving today, and making informed projections about the issues that will be important in 10 or 20 years' time.
One of the most pressing and unavoidable challenges is population increase and overcrowding in cities, leading to a drastic shortage of affordable housing: "With space becoming scarcer and the cost of housing rising, billions of people could struggle to find an adequate and affordable place to live in our future cities." (IMAGINE: Exploring the Brave New World of Shared Living – a publication by Space10 and Urgent.Agency). But as we are beginning to realize, it's not just about giving everyone a roof over their heads. This housing crisis ties into things like social inequality, health and wellbeing, as well as loneliness and isolation. If we want the cities of the future to grow and thrive, nurturing a powerful workforce, inspired creatives, innovators and philosophers, leaders and problem-solvers, we need to design buildings, spaces and environments that release and empower their inhabitants to step into their most complete and fulfilled selves. So, where do we start?
Recognizing a Hierarchy of Needs
Maslow's Hierarchy of Needs (1943) is a well-known theory in the field of psychology that identifies the universal needs of humanity in order to grow, progress and thrive. The pyramid begins with our basic, physiological needs for survival, and moves upwards through the need for safety, interpersonal relationships, esteem, respect and recognition, all the way up to self-actualization: the desire to reach your full potential. In the 1960s and '70s, Maslow also expanded the model to include our cognitive needs (knowledge, exploration and understanding), aesthetic needs (appreciation of beauty and form) and transcendence needs (looking beyond the self, such as the pursuit of the mystical, spiritual or religious, nature, art, science, etc.)
Illustration Credit: iStock Database.
"A musician must make music, an artist must paint, a poet must write, if he is to be ultimately at peace with himself. What a man can be, he must be. This need we may call self-actualization."
—Abraham Maslow, Motivation and Personality (1970)
The nature of the hierarchy is that it is only when the basic needs are met (the base of the pyramid) that people have the motivation, the capacity, the freedom and the opportunity to invest in their psychological, social, self-fulfillment and spiritual needs. Maslow's argument is that people have neither the motivation nor the capacity to address the higher level needs if their basic needs have not been met. If someone is desperately hungry, that need is likely to trump any desire for personal achievement or accomplishment. Similarly, those who lack a feeling of basic safety and security in their lives will struggle to form healthy, intimate relationships. At the very tip of the pyramid, it is these healthy relationships and a feeling of self-worth and self-esteem that underpin the capacity and motivation for growth, creativity and fulfillment.
According to Maslow's theory, then, a lack of appropriate and affordable housing could have dramatic and wide-reaching consequences for the future of us as a society that go beyond a physical shortage of accommodation, as more and more people are held back from progressing beyond the struggle for basic shelter and security. On the flip side, the hierarchy suggests that communities, cities and societies will prosper and thrive when individuals are empowered and released to pursue healthy relationships, look after their mental health, develop a strong sense of self-esteem and ambition, and embrace their full potential. This is where growth, creativity, innovation and progress happen.
The brilliantly exciting thing about the human race is that we won't all follow the same path towards the same goals. "Fulfillment" doesn't look the same for all of us. As our basic needs are met, we will be released and motivated to go in different directions to seek fulfilment – pursuing science, art, technology, literature, philosophy, business, invention and innovation, law, finance, sport and competition, social work, teaching…the list goes on. This is what leads to well-rounded societies that continue to grow, move forwards and meet the needs of every individual.
An Ancient Wisdom
This idea of journeying through a series of stages to reach maturity is not something that has been dreamed up in the modern era. In fact, Maslow's hierarchy loosely correlates to the ancient Indian philosophy of Chakra. Chakra describes the stages we pass through as we grow from infants to adults but, like Maslow's theory, it can also be applied to us as a community or society.
Chakra begins with the Infant Soul, focused on basic needs and the primitive struggle for survival, much like the physiological needs at the base of Maslow's pyramid. The second Chakra is the Baby Soul, with greater desire and capacity for partnership and relationships, as well as finding security in tradition, habit, law and order. Once we reach the third Chakra of the Young Soul, the basic survival issues have been mastered, so we are less fearful and more confident to consider our own agency and power. It is at this point that the pursuit of fame, success, respect and reputation kicks in, which parallels Maslow's "esteem" needs. The Mature Soul then begins to look beyond material things, pursuing healthy and intimate relationships and a deeper sense of meaning.
By the fifth Chakra, the soul has mastered survival, achieved some level of fame and fortune, constructed a personality and developed meaningful relationships, and the Mature Soul now looks to a higher truth. We then reach the Old Soul, which represents much of what Maslow calls "self-actualization": greater self-awareness and a motivation to better ourselves. The Old Soul believes in fulfilling their purpose in life, and consciously seeks out environments, relationships and situations that bring out the best in them.
Finally, the seventh Chakra is the Infinite Soul, where we become connected to our spiritual selves. The Infinite Soul is largely motivated by Maslow's "transcendence" needs, seeking a personal and direct connection with a higher power and experiencing the oneness of all living things.
So, if the goal is to progress to maturity, as individuals and as societies, nurturing the capacity and the motivation to grow, seek fulfilment, and aim to be the best we can be, the question that confronts us is this: How do we design cities that not only meet the basic needs of every individual, but also make space and capacity to motivate people towards growth, connection, maturity, creativity, innovation…the things that keep us healthy and thriving as human beings, and as societies?
The Shared Living Revolution
The inevitable fact is that we are heading into a future where there will be a lot more people and a lot less space, and this is one of the factors that has led to the growing popularity of shared living: "The rise of the sharing economy suggests that people are ready to share more than we thought — and that there is a bigger potential still to be harnessed." (IMAGINE: Exploring the Brave New World of Shared Living)
Onesharedhouse2030. IMAGINE is a magazine published by SPACE10 to showcase the trends and technological advances that enable us to see how we might reshape society for the better. IMAGINE Exploring the Brave New World of Shared Living. Published on Oct 14, 2018. In collaboration with SPACE10 + Urgent.Agency. Astrid Media.
One Shared House 2030
The survey identifies trends in terms of how people view and use the spaces in their homes, and our perceptions of personal ownership and privacy, gathering opinions about shared living and what it should look like, and exploring different scenarios and shared living setups that might work for different types of people.
One of the significant findings is that the majority of under 30s feel equally at home in cafes, gyms and other public spaces, with colleagues at work or school, or in other people's homes, indicating a shift away from the sense of a personal and private place to call "home". This blurring of the lines between private and public, between being "at home" and being "out", is only likely to become stronger and more prevalent. With more and more people working from home, there is also the issue of isolation and loneliness if our homes are completely separate from any sense of community or social life. The results of the survey pose the suggestion that we should be designing around our lived experiences and our changing lifestyle preferences, rather than being restricted or dictated to by the status quo in architectural design.
In IMAGINE, Space10 attribute the popularization of this new, modern movement of shared living to a 1967 newspaper article by Bodil Graae called "Children Should Have One Hundred Parents". They describe, "the emergence of co-living communities that combined private living spaces with communal facilities," most commonly found in northwestern Europe, Japan and North America.
The invitation is to create living environments that solve practical problems and provide basic shelter for an ever-increasing population, but that also enhance quality of life and wellbeing among inhabitants, and improve efficiency and sustainability.
What if we could not only find a practical solution to the housing crisis, but also actively promote community and connection, healthy living and sustainability, through creative, pioneering design?
Building Community New Apartment Architecture, Michael Webb. "There's an urgent need to build more and better apartments: to relieve an acute shortage of affordable housing in major cities; to use scarce land more economically; to save energy wasted on long-distance commutes; and to revitalize urban centers. These challenges have led to the creation of some of the most inventive contemporary buildings of the last few years."
In his new book Building Community, author Michael Webb explores apartment buildings as a typology of growing significance and traces the history of multiple-occupancy housing through its most innovative 20th-century exemplars. These range from the pioneering projects of Henri Sauvage and Michel de Klerk to the landscaped housing estates of Weimar Germany, the radical proposals of Le Corbusier, and public housing in post-war Europe.
Thirty recent apartment complexes are grouped by theme, from compact urban villages to mega-structures, and from social housing to upscale high-rises. Each is considered for the way in which it enriches the lives of residents and the city, and is illustrated with drawings and photographs. Nine projects currently under construction anticipate the surge of innovation as architects become increasingly involved in this area of design.
Creativity is the theme that links these diversified examples: finding new ways to share space, while maintaining a balance of privacy and community. Building Community offers dozens of proven successes, offering valuable lessons in the creation of good living environments. It also includes interviews with Bjarke Ingels, Édouard François, Michael Maltzan, Lorcan O'Herlihy and Stanley Saitowitz: architects who have each set an example for their peers.
Photo Credit: iStock Database.
Architects of the Future
Enter, the architects of the future. The stage is set for architects and designers to play a decisive role in designing settings that nurture, empower and release people to pursue that higher level need for personal growth and self-actualization, towards achieving their full potential. As Maslow's theory lays plain, more than just basic shelter, people need community, a positive environment that encourages connection, while also allowing for individual privacy and dignity. And many forward-looking architects are already stepping up to the plate. In Building Community (Thames & Hudson, 2017), Michael Webb explores some of the most innovative and experimental shared living solutions that are already breaking new ground, and looks ahead to the increasingly prominent role that architects will play in creating positive living environments.
Karen Kubey, guest editor of an edition of Architectural Design called Housing as Intervention: Architecture towards Social Equity, presents the pivotal role of architecture in addressing the most urgent socio-economic challenges and inequalities. She defines social equity as an equal opportunity for a healthy, fulfilling life. In other words, equal opportunity to progress beyond Maslow's basic needs to the levels of being able to pursue self-actualization and transcendence ­– without barriers or restrictions.
Karen Kubey Is an Urbanist Specializing in Housing and Health. Photo Credit: Karen Kubey Downloaded February 15, 2020 Karenkubey.Net Ultimately, Kubey argues that the time has come for a new breed of architect, a redefining of the profession, with a much broader remit and responsibility. The call is to design accommodation, spaces and living environments that support the ways we are going to be living in the future. But of course it's not down to the architectural profession alone. This must be a collaborative effort between architects, residents, city planners, housing associations, and public health bodies as, together, we seek to design environments that are shaped around our lifestyles, that support the way we live, and that work for all of us. One such example is the speculative Healthy Urbanism project in Brooklyn, a collaboration between Interface Studio Architects and a public health firm called Health By Design, that explores the relationship between housing and health and reimagines an area of Atlantic Avenue as a pioneering model of how design can lead to healthier communities.
Housing as Intervention: Architecture towards social equity. Published by: Architectural Design. Paul Sayer. John Wiley & Sons: "Across the world, the housing crisis is escalating. Mass migration to cities has led to rapid urbanization on an unprecedented scale, while the withdrawal of public funding from social housing provision in Western countries, and widening income inequality, have further compounded the situation. In prosperous US and European cities, middle- and low-income residents are being pushed out of housing markets increasingly dominated by luxury investors. The average London tenant, for example, now pays an unaffordable 49 per cent of his or her pre-tax income in rent. Parts of the developing world and areas of forced migration are experiencing insufficient affordable housing stock coupled with rapidly shifting ways of life."
"In response to this context, forward-thinking architects are taking the lead with a collaborative approach. By partnering with allied fields, working with residents, developing new forms of housing, and leveraging new funding systems and policies, they are providing strategic leadership for what many consider to be our cities' most pressing crisis. Amidst growing economic and health disparities, this issue of AD asks how housing projects, and the design processes behind them, might be interventions towards greater social equity, and how collaborative work in housing might reposition the architectural profession at large."
Contributors include: Cynthia Barton, Deborah Gans, and Rosamund Palmer; Neeraj Bhatia and Antje Steinmuller; Dana Cuff; Fatou Dieye; Robert Fishman; Na Fu; Paul Karakusevic; Kaja Kühl and Julie Behrens; Matthew Gordon Lasner; Meir Lobaton Corona; Marc Norman; Julia Park; Brian Phillips and Deb Katz; Pollyanna Rhee; Emily Schmidt and Rosalie Genevro. Featured architects: Architects for Social Housing, Shigeru Ban Architects, Tatiana Bilbao ESTUDIO, cityLAB, Frédéric Druot Architecture, ERA Architects, GANS studio, Garrison Architects, HOWOGE, Interface Studio Architects, Karakusevic Carson Architects, Lacaton & Vassal, Light Earth Designs, NHDM, PYATOK architecture + urban design, Urbanus, and Urban Works Agency.
Making Healthy Neighborhoods
East Bay Asian local Development Corporation (EBALDC), Social Determinants of Health, 2017. In collaboration with local hospitals, non-profits, public agencies and neighborhood organizations in Oakland, California, EBALDC works towards common goals such as increasing affordable housing options, reducing incidents of high blood pressure, and improving educational opportunities. Image Courtesy of: Housing as Intervention: Architecture towards Social Equity, Architectural Design. Paul Sayer. John Wiley & Sons
West Terrace at 250 W 57th Street. Credit: COOKFOX Architects, DPC. Photography by Eric Laignel.
The Rise of Biophilic Design
Increasingly, the architects, developers and designers of our built environment are experimenting with the concept of biophilic design – using building design and space planning to enhance the connection between residents and the natural environment. On some level, we have always known that humans benefit from a close connection with the natural world: it helps to reduce stress and contributes to wellbeing and healing, and it is also thought to boost creativity, clarity, focus, motivation and productivity. Therefore, rather than simply replacing nature with man-made buildings and structures, there is an opportunity to create a harmony of architecture, human infrastructure and nature that embraces all of these health and social benefits while also meeting our physical, functional and logistical needs. This applies to living and working environments, as well as hotels, transport hubs and educational campuses as we seek to design and construct settings that bring out the best in us as individuals and as societies.
Biophilic design opens up a world of possibilities as we explore the various ways in which we can incorporate and celebrate nature, and blur the lines between indoors and outdoors, but it should always be informed by the function of a space. Is it a place for living, working, educating, healing? Should the priority be to stimulate creativity, to inspire, motivate and energize the inhabitants, or is it a place for standing still and being quiet, taking a breath, reflecting or seeking refuge? The answers to these questions will help to shape the way in which nature plays a role in the design. Water and light, for example, can be harnessed and manipulated in different ways to transform a space with their presence and character, and in this way they become essential features of the architectural design.
Rendering of St. John's Terminal, a new high-performance workplace building within a restored railroad structure. Credit: COOKFOX Architects, DPC. 
Biophilic design also includes building sustainably and trying to minimize the negative impact on nature, designing around nature rather than removing it, or re-planting trees and greenery. Buildings can even be used to add to and enhance green spaces; for example by incorporating rooftop gardens that create new green spaces for residents to enjoy, and reintroduce biodiversity into urban areas. The use of natural, local materials can help to cultivate an authentic sense of place, and a raw, unprocessed finish enhances the connection with the natural world. Similarly, it can be highly effective to reflect shapes, forms and patterns that naturally occur in the world around us, like honeycomb, pine cones or the rings of a tree trunk, because we connect to these on an innate, biological level.
The city of Singapore offers some of the most creative and innovative examples of biophilic design to date because this is something that city planners were mindful of from the start, but similar projects have begun to be commissioned in South Korea, Japan, India, China, Thailand and Australia, as we begin to appreciate the value of not only respecting but embracing nature through architectural design.
The Stage is Set
The challenge may be daunting, but the architects of the future will be those who grab the baton with both hands and run with it. The time is now to redefine what we mean by new and affordable housing, and town planning; how we think about architecture and design; how we communicate and collaborate. If architecture and design are about "meeting needs", then we need to broaden our idea of what these needs really are, and what they will be in the future. Whereas we may once have understood "need" to mean something essential for survival, Maslow's theory suggests that – as individuals and as societies – we need connection, we need creativity, we need healthy competition, achievement and success, and we need fulfillment if we are to grow towards maturity. Imagine a world that is designed around releasing every individual into their full potential…what might that look like?
If you enjoyed this article, please Like and Share!
Sources:
Maslow's Hierarchy of Needs: https://www.simplypsychology.org/maslow.html
http://onesharedhouse2030.com/
IMAGINE: Exploring the Brave New World of Shared Living, Space10 and Urgent.Agency (Issue 2, 2018)
Building Community, Michael Webb (Thames & Hudson, 2017)
Housing as Intervention: Architecture Towards Social Equity (Architectural Design, Vol. 88, Issue 4), Karen Kubey, ed. (Architectural Design. Paul Sayer. John Wiley & Sons, July/August 2018)
A Journey to the Final Frontier: A Spiritual Search for Meaning in Modern Times, Vasken Kalayjian (GK Publishing, 2020)
Biophilic Design in Asia – Human Spaces, Richard Hassel (15 December, 2015)
14 Patterns of Biophilic Design (Terrapin Bright Green LLC, 2014)
#futurecities #cities #designcommunity #designthinking #artificialinteligence #innovation #placebranding #biophilicdesign #Maslow #Maslow'sHierarchyofneeds #Chakras #HousingAasIntervention #HealthByDesign #Onesharedhouse2030